730 Manitou Ave was built in the year 1900. The building is known to have been used for many different business over the years. History tells us that the name the Keg goes back to the 1960's when the building had a large wooden keg facade. In 1986 Mike and Terry Milar purchased the building and began the business The Keg Lounge. The Keg started out as a bar that served a ham and cheese sandwich with a bag of chips and beer for $3.00. The food slowly progressed into Mike cooking burgers in the back parking lot on a charcoal grill. The burgers were a hit and soon Mike and Terry were able to include an open kitchen into the business. Beginning with great local burgers. Philly cheesesteaks and chicken sandwiches Mike and Terry expanded on the food service to include top of the line steak and seafood dinners as well as the world famous berry salad. Over the years Mike and Terry managed to win over the hearts and bellies of the local Manitou population. All you have to do is ask a merchant where the best place to eat in town is and they will tell you "The Keg Lounge".
The Keg also offers a full bar with local beers on tap, daily drink specials, a pool table, a shuffleboard table, a Juke box and big screen TVs for your favorite sports viewing. One of the unique features of the Keg is the Patch collection. Since before Mike and Terry bought the Keg police, firefighters, and other members of civil service have donated their patches to hang on the walls. Throughout the years over 800 different patches from the United States and countries have been donated and hung on the walls. After a kitchen fire in 2015 the patches were all taken down, washed, sorted and placed into picture frames. The Keg still accepts donated patches and new ones are staples to the wall behind the bar until there are enough to fill another picture frame. Thank you to all the people who have donated patches over the years. To this day the Keg remains a family establishment with Mike and Terry's sons and other relatives helping lo run the business. The Keg is a great local place to have your favorite beer or cocktail while enjoying the best food in town in a non-pretentious blue collar atmosphere.
Best Food in Town
From Our Menu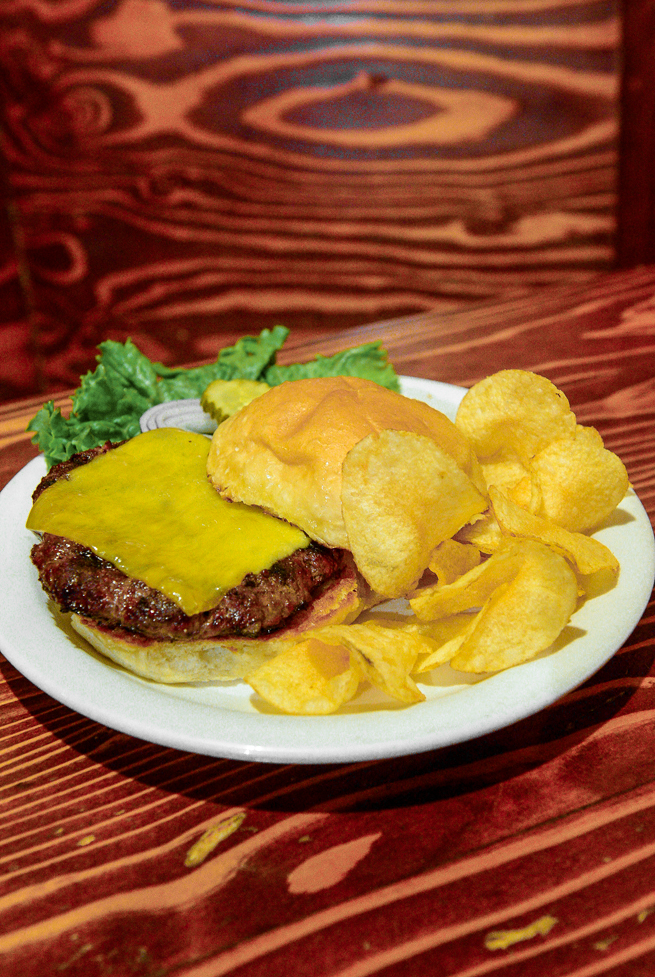 Berry Salad
Green leaf lettuce, red cabbage, red onion, bleu cheese crumbles, walnuts and seasonal fresh berries, served with our own raspberry honey dressing, roll and butter.
Cheesy Killer Bread
French bread with a spread of parmesan cheese, garlic, mayo and butter, broiled, topped with cheddar cheese and served with marinara sauce
9oz Ranch Foods Direct hamburger patty, topped with Swiss cheese and sautéed onions, served on a long bun.
Veggie Cheesesteak
Sautéed broccoli, carrots, green peppers, onions and mushrooms, topped with Swiss cheese, tomatoes and our house Italian dressing
Grilled Salmon
Grilled salmon filet, served with rice pilaf and fresh vegetables
What Our Customers Say
Customer Reviews
Had the Mile High sandwich and it was Awesome!!!!!
My berry salad with the added salmon was perfection, Bobby was our server and he was hilarious and lovely and efficient. The cocktails were great the kitchen was great, it was a great day. Thank you so much!
Good fresh food and great service
This place was very cool. The food was great. The bison chili was so good!!!
Great food. Vegetarian burgers are on the menu if thats your thing. Friendly staff
Best burger and fries I've had in years.
Spectacular food and fantastic service! Can't say enough about the steak sandwich and fries!!! 👌
Exceptional service, awesome atmosphere and everything comes as requested! No doubt in my mind if you come here and order anything off this menu you will not be disappointed! Thank you for a wonderful service and always keep this energy of love and peace strong!
Just had a great dinner there, well priced awesome food. Different atmosphere than some other places in town, laid back, jukebox playing, good old fashioned bar feeling with food way above bar food! Monterey chicken was amazing.